All about the Nashes
Bob was born and raised on the Nash Ranch in Redding and attended local schools. Mary DeVirgilio was born and raised on Oahu, Hawaii. Bob and Mary met in 1984 when they were both living in Reedley (Fresno County), California. They were married in 1987 and had their first child, Louis, in 1989. The family moved back to Redding in 1989. Kristen and MacKenzie were born in Redding in 1995 and 1997.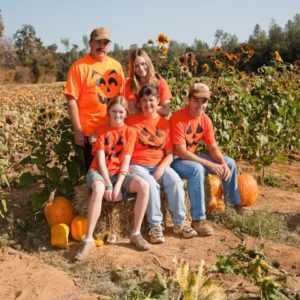 Bob is recently retired and able to spend all of his free time on the farm. Louis is a practicing civil engineer, inspecting bridges throughout the state after graduating State University, Chico in Civil Engineering. In 2020, Louis and his new wife Rachael moved back to Redding and took a 50% share in the land and business. Since then, they've welcomed the fourth generation when Declan Louis Nash was born in 2021. Kristen graduated CSU, Chico in Mechanical Engineering and now works as a Navy contractor in San Diego. MacKenzie graduated CSU, Sacramento in Biology and is currently on her way to med school. The whole family works all summer on the farm growing pumpkins and corn and all are active in helping with the October Pumpkin Patch event. Since Louis is working out of town now, Kristen and MacKenzie are now our chief tractor drivers.
The ranch property now known as the Nash Ranch first came into existence in 1865 when two 160 acre land patents on Stillwater Creek Sections 22 and 27 were granted to Union Army Veterans of the American Civil War. The original 280 acre ranch was developed by Shasta County pioneer, Littleton Dryden, the ranch being known as the "Dryden Ranch" into the 1950's. The ranch changed hands a couple times until purchased by Louis Nash, Bob's dad, in 1953. An additional 120 acres to the east was added in 1957 where the "Nash's Pond" was built in 1958.
Louis "Doc" Nash developed irrigation on the property and flood irrigated alfalfa and cow pasture utilizing water from Stillwater Creek and the "Pond" since 1960. In addition to cows and alfalfa hay, several crops of onions, collards, parsley and vetch were grown under contract for seed.
Bob assumed operation of the ranch in 1985 with production of certified oat seed and alfalfa hay. When Bob and Mary moved back to Redding permanently in 1989 they added fresh market sweet corn and fresh cut field grown gladiolus flowers to the mix of crops which were sold at the local Farmers Market. The first pumpkin crop in 1991 was a quarter acre of varietal experimentation which became a fledgling operation the next year known as "Nash Ranch Pumpkin Patch". The Corn Maze was added in 1998 and the first haunted house in 2006.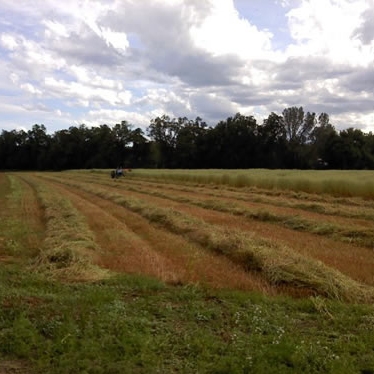 The ranch is a working ranch currently raising, in addition to pumpkins and corn; sheep and lambs, alfalfa hay, oat hay, barley feed grain and bird seed millet.
A key feature of the ranch is Stillwater Creek, a rich and diverse natural riparian habitat with a myriad of bird species including Great Blue Herons, Green Herons, Snowy Egrets, Belted Kingfisher, several Hawk species, occasional Bald Eagle and Osprey, several owls including Great Horned Owls, Wood Ducks, Mallard Ducks, Canada Geese, Wild Turkeys, Valley Quail, Mourning Doves, woodpeckers, meadowlarks, crows, magpies, jays, swallows, and on and on. Also resident at the Nash Ranch are Black Tail Deer, Coyote, Grey Fox, Bobcat, Opossum, Raccoon, Beaver (in Stillwater Creek), an occasional otter family, and many Gray Squirrels in the giant oak trees that are so prevalent along the creek bottom. In the creek are several species of fish, including small mouth bass, and our favorite, the venerable little mud turtles.